Our hotel is ideally situated for daily excursions to the surrounding area and beyond. You will have a convenient base from which you will get to know the prefecture of Thesprotia and the region of Epirus. During your stay in Coralli Hotel, you can also participate in various activities, such as trekking or hiking in the nearby area. You can stroll around our Hotel, admiring the beautiful Karavostasi Beach and the idyllic landscape. You can even rent a bike and explore the nearby locations and routes.
Below, we present some places worth visiting. The hotel staff can supply you with all necessary information and guide you with valuable advice for your excursions. Do not hesitate to ask us anything you want. We will be gladly advising you concerning which sights to visit, where to go, etc.
Karavostasi Beach
You can explore the beach on foot but you can also explore it riding on and off-road, or even by bike too.
The Greater Area
Places in Karavostasi Beach Thesprotias, worth visiting:
» The Folk Museum in the central square of Perdika, facing the Town Hall and the Cultural Center
» The St. Athanasios monastery
» Dodoni Ancient Theatre (80km)
» Meteora (3 - 3.5 hours)
» Zagorochoria (120 - 150km)
» Vikos Gorge (120 - 150km)
Parga (17 km)
Sivota (16 km)
A nearby destination is beautiful Sivota and their beaches.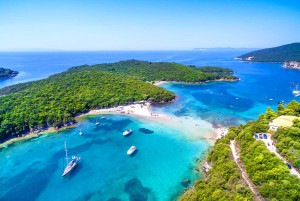 Souli - Acheron (43 Km for Gliki)
Acheron River is regarded as the river of myths and legend, over which, according to Greek Mythology, Charon ferried the newly dead souls across into Hades. You can enjoy trekking by the side of (and occasionally within) the Acheron river. Rafting and trekking is also available. You can even ride a bike and enjoy the beautiful landscape. From there you can also walk through the mountain trails to heroic Souli.